Strawberry Shortcake Trifle Cake
We had some leftover food cake and shortcake biscuits in our freezer and I decided to combine them to make a yummy spring time dessert.
My husband requests strawberry shortcake for his birthday every year so I knew he'd love a shortcake type dessert and I love cakes that combine fresh fruit, pudding, and cool whip since they feel nice and light. Thus our Shortcake Trifle was born.
Ingredients:
3 cups sliced strawberries
1 cup sugar
1/8 cup water
1 Angle Food Cake loaf
4 shortcake biscuits
2 packages white chocolate instant pudding; prepared as directed on the package
Cool whip; thawed
First I combined the sliced strawberries, sugar, and water and set them aside. This allows the strawberries time to create a lot of juice that helps moisten the whole cake.
I crumbled up 1/2 the angel food cake and 2 of the shortcake biscuits into the bottom of my trifle dish.
I covered the cake with 1/2 of the pudding mixture.
Next I added 1/2 of the sliced strawberries with 1/2 of the juice to the top of the pudding. I did poke a few holes so the juice from the strawberries would flow through the pudding onto the cake crumbles.
Then I added a second layer of cake, pudding and strawberries and topped my dish off with as much of the cool whip as I could fit; making sure to completely cover all the strawberries.
Don't those layers look amazing?!
We set our cake in the fridge and ate it after dinner. I find that trifle cakes often taste best after letting them sit for a few hours so the flavors can meld together.
Then we scoop and eat. It was delicious!
What's not to love? MM... cake.. good, pudding good.. sorry, no meat in ours! LOL.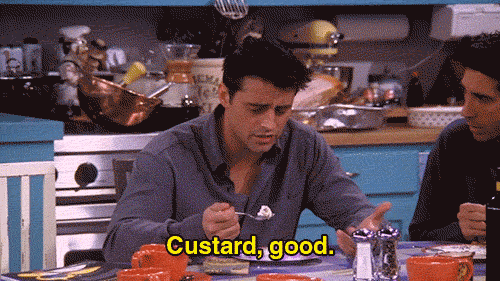 Linking Up With: